Color Courses & Workshops
NACARAT Color Design, a global design agency and color expert, uses color to enhance the value of spaces, architecture, brands and products. More than 150 multinational companies, SMEs and local governments have trusted us with projects that have a strategic focus on color since 2005. Our innovative techniques and multidisciplinary expertise have brought us respect and international recognition.
NACARAT is also an educational institution. Our Nacarat instructors and color consultants have Master's degrees in Applied Arts, Color, Image and Design. We have trained more than 150 architects and interior decorators, both freelancers and employees at companies like TANGRAM Architectes, SÉQUENCES, the Louvre Museum, SNCF and more.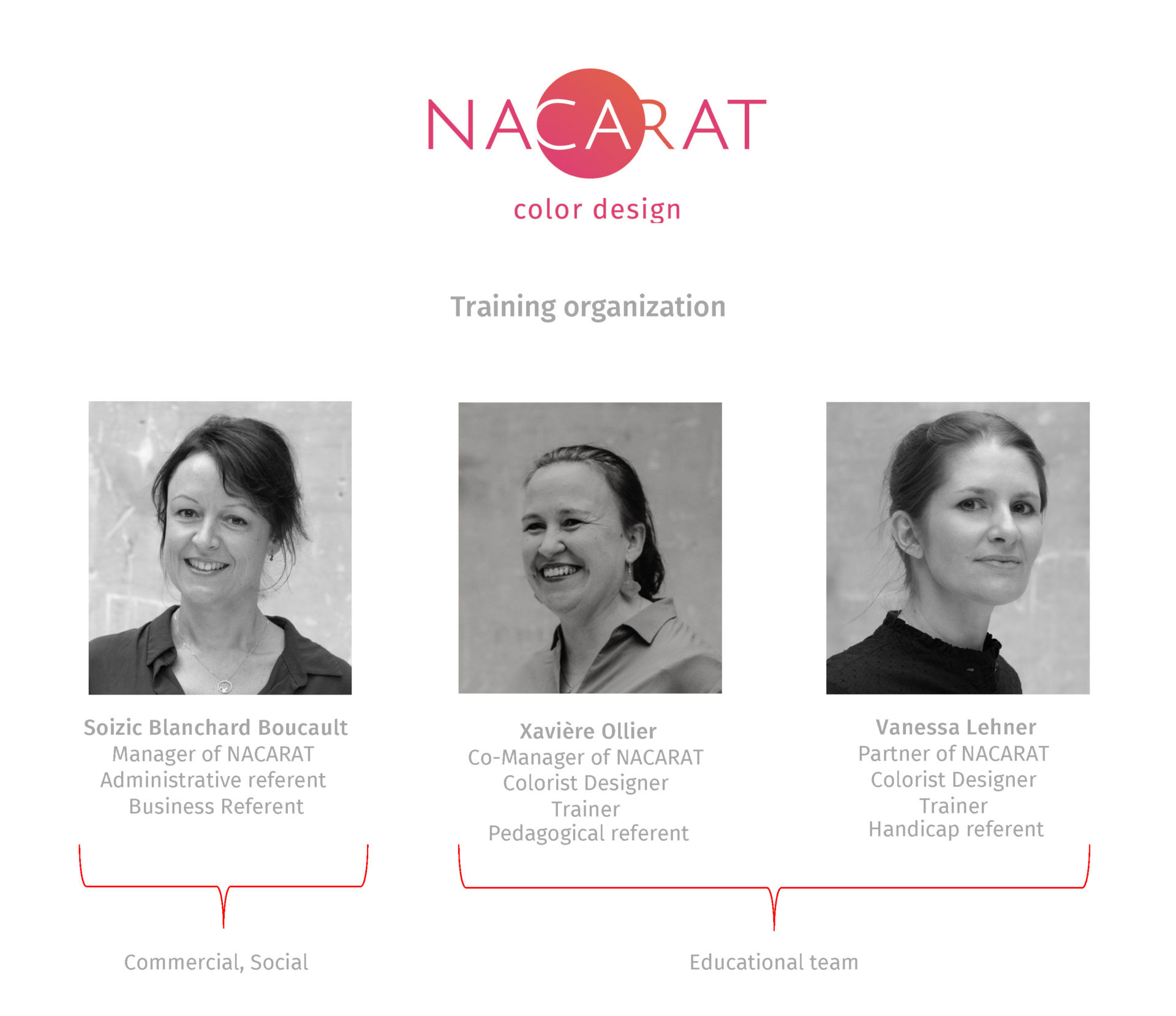 Xavière Ollie and Vanessa Lehner have more than 15 years of experience in in-house and external continuing education and speak about color at national and international conferences each year. They work with colors daily at the agency and on-site, in collaboration with our partners (architects, project managers, contractors, design offices, builders and manufacturers).
Color shapes, informs, stimulates, carries meaning.
NACARAT Color Design Training Programs 2019 Report – Number of inter-company participants: 29 – Number of in-house participants: 42 – Cancellations: 0 – Drop-outs: 0 – 71 Certificates awarded for classwork (case studies, practical applications) – Overall participant satisfaction: 100% "Very good"
NACARAT Color Design Training Programs 2020 Report – Number of inter-company participants: 14 – Number of in-house participants: 27 – Cancellations: 0 – Drop-outs: 0 – 41 Certificates awarded for classwork (case studies, practical applications) – Overall participant satisfaction: 100% "Very good"
"The Color and Architecture course explores use of color in exterior and interior ambiances. It gives your the tools you need to think critically and better perform for your projects. Exercises and tours allow students to better understand and apply theory. This course helps you better understand and enrich your relationship with color." Séverine Belmon Architect at Séquences in Toulouse
NACARAT S.A.R.L. Educational institution registered under number 73 31 04820 31 with the Prefect of the Midi-Pyrénées Region